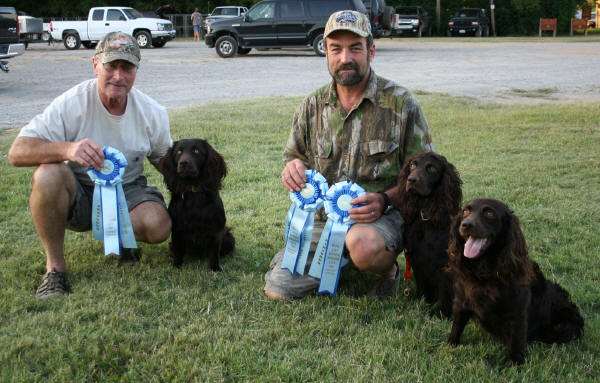 Brandywine dogs that titled on Saturday at Music City, TN HRC Hunt test, Aug 27-28, 2011
Other passes and titles:
HRCH UH Brandywines Till the Next Time Tillie – titled in Finished
HR Brandywines Lookout 4 Buddy Luv – titled in Seasoned, owned by Ray & Val Bloom
HR Brandywines Stonewall Galant Pehlam – titled in Seasoned, earned 1 Finished pass, owned by Butch & Jane Herb
HR Brandywines Cutty's Superstar – titled in Season, owned by James Tanner
SHR Brandywines Legacy of Stonewall – titled in Started, owned by Andy McGinnis
HRCH UH Brandywines Mighty Duramax – 2 Finished passes
HRCH UH Brandywines Browning Citori Feather – 1 Finished pass
HRCH Brandywines Duramizer Chip – 1 Finished pass
HR UH Brandywines Bessies Mojo – 1 Finished pass
Congrats to all!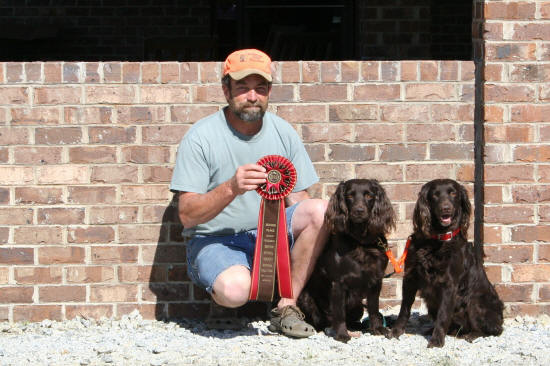 Brandywine Creek offspring with BSS Nationals ribbons, held April 15-17, 2011 in Clinton, SC
Congratulations to all!!!!
OPEN –
JAM - HRCH UH Brandywines Mighty Duramax –, Phil Hinchman, IN
Intermediate –
1st place - HR Brandywines Special Edition – Edie, Lance Waggoner, IL
JAM - HR Brandywine's Sweet Madeline - Dave Ladd, Niceville, FL
Novice-
4th place - Lookout 4 Bellco's Top gun - Jeff Bell, Richburg, SC (Chip offspring)
Completion - Brandywines Cherokee Rose - Frank Semken, Savannah, GA
Completion - Brandywine Stonewalls Gallant Pelham - Butch Herb, Southside, AL
Puppy-
4th place - Brandywine Stonewalls Gallant Pelham - Butch Herb, Southside, AL
JAM - Lookout 4 Bellco's Amazing Chase - Jeff Bell, Richburg, SC –(Chip offspring)
JAM - Brandywine's Rosemary Hill - Brian Espy, Montgomery, AL
Completion - Lookout 4 Bellco's Top Gun - Jeff Bell, Richburg, SC – (Chip Offspring)
Completion - Rocky Rivers Rainbow Rider - Cheri Behe, Bailey, NC –(Hunter Offspring)
Completion - Lookout 4 Brandywines Jr. Chip - Ray Bloom, Girard, PA –(Chip offspring)
Completion - Brandywine's Legacy of Stonewall - Andy McGinnis, Jasper, AL
Roustabout Singles-
2nd place - Brandywines Miss Ginger & Dave Polzin
3rd place - HRCH UH Brandywines Browning Citori Feather & Phil Hinchman
Roustabout Doubles-
2nd Place – HR Brandywines Till the Nxt Time Tillie & Matt Behe, HRCH UH Brandywines Browning Citori Feather & Phil Hinchman